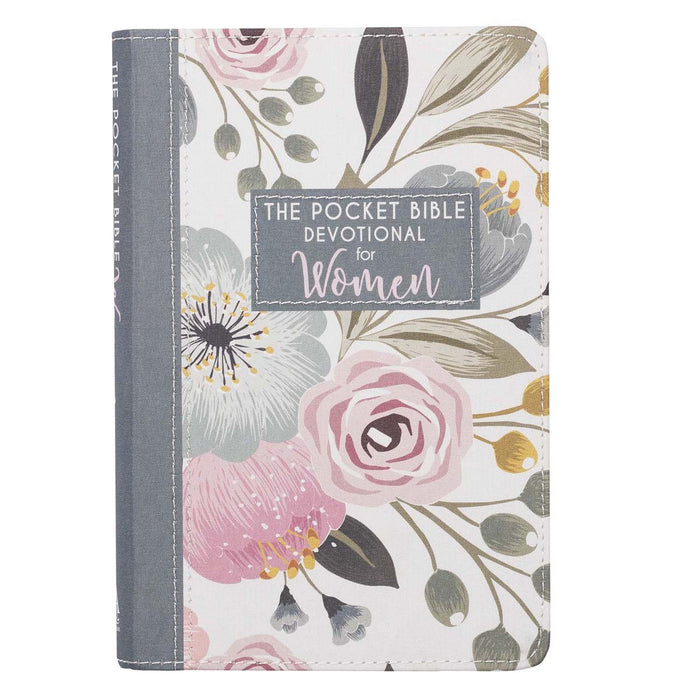 Pocket Bible Devotional for Women
Original price
$ 14.99
-
Original price
$ 14.99
This Bible-based
Pocket Bible Devotional For Women
was written to instill a love for God's powerful Word in every woman's heart.
The floral printed flexcover has a gray spine and appliquéd title patch and is styled in a traditional half-bound design with a modern floral twist that features oversized flowers in pink and gray-green tones. The floral design is carried over to the page edges that feature a printed floral design. The title is printed in white and pink lettering on a gray appliquéd patch attached with white topstitching.
The Pocket Bible Devotional for Women
A blue ribbon marker that matches the blue end pages is added for your convenience.
Each of the 366 daily readings offers a collection of key Scripture verses on relevant topics: finding comfort, an eternity in heaven, a godly character, working hard, managing God's money, and much more. Start each day reading through the message and Bible verse before diving into the demands of your schedule. The convenient size offers versatility to take this devotional with you and share it with others for encouragement and accountability.
The uplifting color combinations of pinks, grays, and greens make this devotional an appealing gift for the special woman in your life. It makes the perfect gift for a birthday, Mother's Day, or just to say "thank you" to an exceptional Bible study leader who guided your spiritual growth through the year.
Gray and pink floral design 
Flexcover 
Ribbon marker 
Decorative printed page edges 
366 devotions 
416 pages 
Size: 7.2" x 4.9" x 0.9" (183 x 124 x 23 mm)