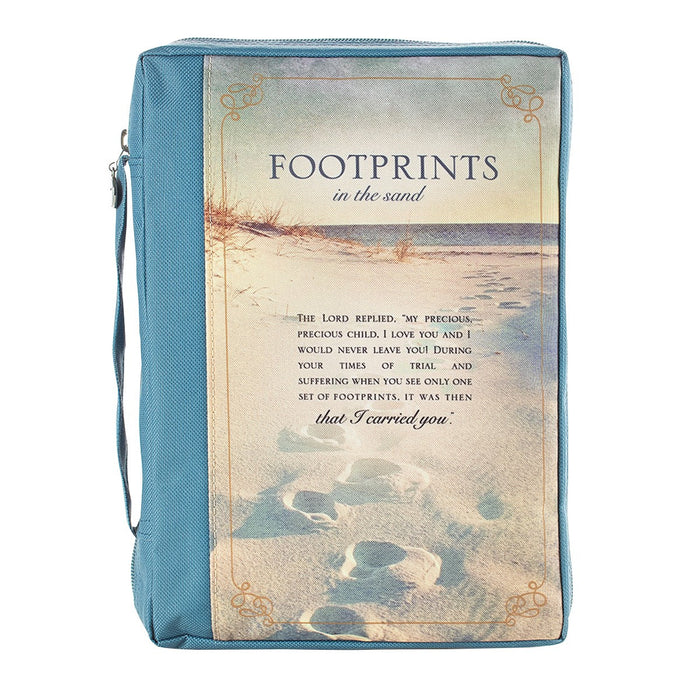 Footprints Bible Cover
Original price
$ 19.99
-
Original price
$ 19.99


The cover of the 

Footprints Poly-canvas Value Bible Cover 

offers a visual of the famous poem 

Footprints in the Sand.



The silk-screened  shoreline backdrop on the silky front panel shows just one row of footprints and the words from the poem.  




The LORD replied, "My precious, precious child.  I love you and I would never leave you! During your times of trial and suffering when you see only one set of footprints, it was then that I carried you."
Additional features include a slip pocket on the back panel, a cross engraved zipper-pull, a sewn-in carry handle and a pen loop inside of the case.
This Bible cover is available in three sizes: medium, large and extra-large. Please refer to the last image in the image carousel on the left for the 
Bible Cover Sizing Chart
before you make a selection. 
The 
Footprints Poly-canvas Value Bible Cover
will be a constant reminder of God's care and a beautiful way to protect our Bible.  Do you know someone who loves the poem?  Then it goes without saying that this Bible cover would make great gift.
Footprints Design
Value Bible Cover
Slip Pocket onBack Panel
Cross Engraved Zipper-Pull
Carry Handle
Pen Loop Inside